In recognition of the fact that many users may not relish the prospect of opening their computer and installing upgrades RISCOS.com has put in place the Authorised Installer network of approved experts capable of safely installing and upgrading RISC OS computer systems.
Authorised Installers will be able to install new versions of RISC OS for you. They will also be able to safely reformat your hard disc to the new RISC OS 4 F+ format (only required for machines running RISC OS 3.7 or earlier in ROM) and restore your data onto the drive. They should also be able to help you fit hardware upgrades to your computer, for example a network interface.
You should be aware that authorised installers will charge for their services. RISCOS.com do not fix a price for this service nor do we undertake this service ourselves. Please note that costs may vary depending on the complexity of the upgrade process, for example an 8 slice heavily loaded RISC PC will obviously take more time to disassemble than an unexpanded A7000.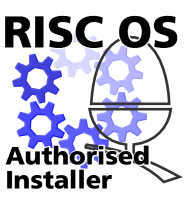 Authorised Operating System Installers in the UK - February 2016
CJE Micros
78 Brighton Road
Worthing
West Sussex
BN11 2EN

Contact Name: Chris Evans
Tel: 01903 523222Fax: 01903 523679
Email: chris@cjemicros.co.uk
Web Site: http://www.cjemicros.co.uk/
CTA Direct
168 Elliott Street
Tyldesley
Manchester
M29 8DS

Contact Name: Roy Heslop
Tel: 01942 797777Fax: 01942 797711
Email: sales@ctadirect.co.uk
Web Site: http://www.ctadirect.co.uk/
Genesys Developments Ltd
41 Riviera Drive
Southend-on-sea
Essex
SS1 2QT

Contact Name: R Brown
Tel: 01702 462385Fax: 01702 469224
Email: genesys@argonet.co.uk
Web Site: http://www.genesys.org.uk/
Liquid Silicon
2 Forth Avenue
Kirkcaldy
Fife
KY2 FPN

Web Site:http://www.liquid-silicon.com
R-Comp Interactive
22 Robert Moffat
High Legh
Knutsford, Cheshire
WA16 6PS

Contact Name: Andrew Rawnsley
Tel: 01925 755043Fax: 01925 757377
Email: rci@rcomp.co.uk
Web Site: http://www.rcomp.co.uk/
Wakefield RISC OS Computer Club
Wakefield
Contact Name: Chris Hughes
Web Site:http://www.wrocc.org.uk/
Wardlaw Surveys
Wardlaw House
Kirkhill
Inverness, Scotland
IV5 7NB

Web Site: http://www.wardlaw.demon.co.uk/
Authorised Operating System Installers in the Netherlands
Datawave Nederland
Christinalaan 31
3761 BR, Soest
Netherlands
Contact Name: S Elzinga
Tel: +31 (0)35 6013016 Fax:+31 (0)35 6026500
Email: info@datawave.demon.nl
Web Site: http://www.datawave.nl/
DESK
Sierbloem 3
3068 AP Rotterdam
The Netherlands
Contact Name: F M Kraaij
Tel: +31 (0)10 286 0541 Fax:+31 (0)10 286 0542
Email: frank@deskvof.nl
Web Site: http://www.deskvof.nl/
Authorised Operating System Installers in Germany
A4com
Inhaber: Rene Flescher
Orsteil Wolfen
Leipziger Strasse 70
D-06766 Bitterfeld-Wolfen
Germany
Contact Name: Detlef Thielsch
Tel: +49 (0) 3494/694-0
Email: detlef@a4com.de
Web Site: http://www.a4com.de/
Authorised Operating System Installers in Russia
Howard Laurence Ward Communications
Ind Ed Faculty 103051
Moscow State University (MPSU)
Moscow, Russia

Contact: Dr Alexander Ablin (H Ward is the Installer)
Tel: (095) 245 3751 / (095) 246 2052
Email: hlwc@cwcom.net
The Small Print
The Authorised Installers on this list are experienced in upgrading RISC OS computers and have completed an authorised installers course. If you decide to have a computer upgraded by one of our Authorised Installers you should note that your contract is with the Authorised Installer and not with RISCOS.com.